Maintaining an open environment and welcoming atmosphere within the constraints of today's budgets is a challenge for every religious institution. From the smallest chapels to the largest multi-site worship centers, Best Security Products offers integrated security solutions that help you meet the challenge.
Building Security
We help you manage your resources and safeguard your property, whatever size your building may be. Because our systems can monitor what goes on in and around your facilities, you can focus on providing services to your community.
Protect Children
Provide peace of mind to parents. Protect the babies, children and youth in your care. Honeywell can provide your staff the ability to respond immediately to potential threats and lock down your nursery and child care areas with a single action.
Fire & Life Safety
Because your facilities may be in use at all hours of the day and night, you must consider the physical well-being of your congregation and visitors. Our complete array of products can be used to protect a full range of properties from small to large
Protect Assets
We help you manage your equipment and safeguard your property, staff and worshippers. Our operations management systems can monitor what goes on in and around your property by capturing and storing digital images of staff and visitors and detecting attempted break-ins.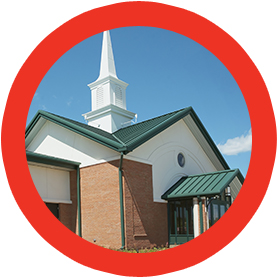 MATT B.
Facilities Manager
Horizon Christian
Fellowship
"We have a rather large church campus that requires a large and rather complex set of systems for our fire, security, and video surveillance needs.
Their prompt service and attention to detail has always been outstanding and feel we have someone who cares and we trust who will be there when we need them."